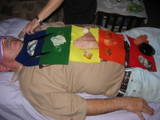 About Us
Crystal Haven is dedicated to energy healing and raising each person's personal vibration.
Founded in 2007 by Jennifer Morris (Jenn) with Roberta Stanley of Universal Healing, t
he journey continues, as this site is established to reach more people in more ways, raising the consciousness and the vibration.
Classes, workshops, and tools of the trade are now at your fingertips. Feel free to browse, ask questions, and give us your feedback. We'd really like to know what you're looking for. For questions or comments about a class or service, please fill out the form below. Feel free to include your phone number in the comment section if you prefer a phone call to email. We are happy to assist you and look forward to talking to you soon.
Looking for Class Information? Detailed class info is on the
Classes & Services
page
---